Clinics Held at Brandreth Farms
Under-one roof arena floor 250 x 125 plus 22 stalls & elevated viewing room, climate controlled with full kitchen and seating for your convenience. Ladies and Mens restrooms with a shower in each area, full trailer hook-ups available. Contact us for more information on how to book a clinic with us at Brandreth farms.
Out door Arena will be finished fall of 2020
***** INSURANCE MUST BE PROVIDED TO BRANDRETH FARMS WITH DEPOSIT.   ALL, GROUPS GMO, Clinicians & trainers must provide Insurance.****
Right of refusal, due to non-compliance of agreements made between management of Brandreth farms and leasing party.
All Deposits are non-refundable after dates have been booked!
BRANDRETH FARMS REQUIRES HEALTH CERTIFICATE FOR HORSES COMING IN FROM OUT OF STATE FOR ALL CLINICS ALONG WITH NEGATIVE COGGINS FOR ALL HORSES
Scheduled Clinics at Brandreth Farms
MCLOUGHLIN HORSE HANDLING CLINICS OF GEORGIA
Join us for 3-day clinic with Ron Mcloughlin,
head instructor of Classical Stock Seat  School of Arizona.
Clinics are open to all disciplines  and levels of riding!
Come withe questions and let Ron help you and your horse with humane and effective training methods.
Located at the beautiful Brandreth Farms in Talking Rock, Ga.   Hookups available.
CONTACT-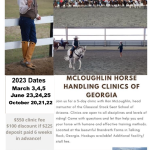 NATHAN SAUNDERS 706-897-5913 / STEPHANY SAUNDERS 706-897-2830
nathan.stephany2020@yahoo.com
---