Horse Motel
Read our Guest's Comments Page for reviews about our motel.
Located on 100 acres in the beautiful mountains of Northern Georgia. Brandreth Farms is conveniently located near the I-75 corridor approximately 1 hour South of Chattanooga, Tennessee and 1 hour North of Atlanta, Georgia.
The facilities at Brandreth farms include 4 barns and multiple 4 board fenced pastures some with run in sheds, summer pastures are bermuda grass and winter pastures are fescue grass.
A 3 bedroom 2 bath guest house is available along with several hook-ups for LQ trailers.
The main barn (Barn 1) has 10 stalls. We have added an additional 21 stalls plus mens and womens restrooms with showers.
250' x 150' covered arena with premium arena footing. Arena has surround sound with wireless microphone used for riders and clinicians.
Barn 2 has 7 stalls and a large fescue pasture; it shares a fence line with the guest house.
Barn 3 has 3 stalls a dry lot/corral that surrounds the barn and a large fescue pasture.
Barn 4 has a covered dry lot / corral surrounding the barn and a large bermuda pasture.
There are 4 pastures with run in sheds and dry lots 2 of them are fescue pastures and the other 2 are bermuda.
Our facility can handle the biggest of trucks and trailers, plenty of turn around room and enough stalls to handle a load of horses.
Brandreth Farms is not a monthly boarding facility and all horses entering the property must have a negative Coggins and travel papers.
Call or email us for availability and rates.
NOTE: A Pet Deposit is required when you book your stay with us.
If any damage is done by your pet(s) you will be liable for any and all damages.
---
Dear John,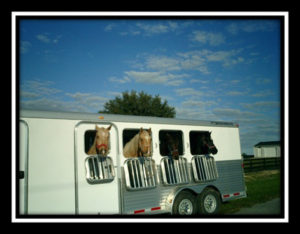 Brandreth Farms is definitely one of our favorite stop over places for us and our 4 horses. We are getting concerned about our age and the distance we have to drive from our Florida home in the Lady Lake area and our summer home near La Crosse, WI as the 1475 miles gets a little too much for us. So it is our plan to spend a couple nights with your on our way to and from our FL home. Your facilities are fantastic and we are looking forward to riding around and getting some saddle time on our way back and forth. We are looking at the 22nd of October as departure date from our family in Chicago-land and that would put us there 22nd.
The fences and grass pasture was exactly what we needed coming from FL pasture the guest house was perfect with such a great country feeling. We were right at home! We enjoyed the views and watching the training of the beautiful horses. The trip to town was great and the Mexican dinner was perfect to finish off a great day. We definitely want to return and enjoy the warm reception and facilities.
If the horses could vote they would sure vote to stay at Brandreth Farms. I think they liked watching other horses work out.
Thanks again for the personal touches, and the warm welcome, it was a pleasure meeting you and seeing your fantastic home and facility.
Sincerely,
Jack and Merle Peterson
May God bless you all with freedoms, safety, good health, happiness and a good sense of humor…… Amen