Rio's Cloudd Moon aka RC
MFTHBA Registration Number: 07-90886 – Date Foaled:04/10/2007-Sex: Gelding Paper: Blue DNA Tested – Color: Amber Champagne
Just click on their images to find out more!
The color on this horse was registered by the original breeder and has not been color tested. He is now a gelding.
RC is a beautiful Buckskin that just keeps on growing. He was not born at Brandreth Farms, we bought him when he was 6 months old from a good friend who did not want to sell him.
He has the best "let's go get it done, I am your Man" attitude, he is one of those special horses that come with their own manual – (I know this stuff just jump on my back and let's go see the world.)
Stoic-gentle-kind-and always willing are words that come to mind when thinking about RC. RC gets along with everyone and everything it's all alright with him. RC has the magic touch- an escape artist- he knows how to open a stall or gate, one day he even climbed out of his stall, he never left the barn just wanted out of his stall.
RC has had a year's worth of Versatility training and competition including some 'cow work' now he takes to the trails and will do some team penning in the Spring of 2012- he likes working cattle.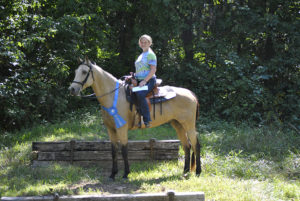 2014 Fall Celebration
FOX-TROT PLAYGROUND
YOUTH TRAIL OBSTACLE CHAMPIONSHIP
ISABELLA BRANDRETH & RIO's CLOUDD MOON
---
Above 2014 WDA Awards
---