Clinics Held at Brandreth Farms
Under-one roof arena floor 250 x 125 plus 22 stalls & elevated viewing room, climate controlled with full kitchen and seating for your convenience. Ladies and Mens restrooms with a shower in each area, full trailer hook ups available. Contact us for more information on how to book a clinic with us at Brandreth farms. Event calendar and some of our past clinics.
Out door Arena will be finished fall of 2020
***** INSURANCE MUST BE PROVIDED TO BRANDRETH FARMS WITH DEPOSIT.   ALL, GROUPS GMO, Clinicians & trainers must provide Insurance.****
Right of refusal, due to non compliance of agreements made between management of Brandreth farms and leasing party.
All Deposits are non refundable after dates have been Book!
BRANDRETH FARMS REQUIRES HEALTH CERTIFICATE FOR HORSES COMING IN FROM OUT OF STATE FOR ALL CLINICS ALONG WITH NEGATIVE COGGINS FOR ALL HORSES
Scheduled Clinics at Brandreth Farms
The week's events
PERCEPTIVE HORSEMANSHIP & RIDING WITH LESTER BUCKLEY

PERCEPTIVE HORSEMANSHIP & RIDING WITH LESTER BUCKLEY

PERCEPTIVE HORSEMANSHIP & RIDING WITH LESTER BUCKLEY.
NOV ,2 and 3rd 2019
Multi-disciplinary teacher of Western & English riding, Sport Horse disciplines & the principles of Classical Dressage
Held @
Brandreth Farms, Talking Rock, GA
Indoor arena and stalls
Nov,3,4,2019

Two-day clinic for beginner to advanced riders and trainers of all disciplines
Limited to 12 riders (3 riders per group) – 90-minute sessions. There will be a short lecture in the morning, a demo after lunch and a happy hour Q & A Saturday evening. BYOB
Rider fee is $475 for the 2-day clinic (includes light breakfast & lunch).

Private lesson available Nov,1st after 3:00 pm and semi lessons on Nov, 2nd after 5:30 on Nov 2nd .( PLEASE plan ahead for lessons. )

No additional cost for indoor stabling.
Full trailer hookup $25 per night
Dry hookup $15 per night.
Auditors $60 per day (includes breakfast & lunch). Limited to 40 auditors.
Riders need to bring their own water buckets, rolling cart or wheel barrow and rake.
No shavings needed
Riders and Auditors are required to sign Release of Liability.
Hotel information:
Microtel Inn & Suites by Wyndham Jasper
Telephone: 866-430-2692

Lester Buckley is licensed by the German FN in dressage and sport jumping.
Lester is also a championship cutting horse trainer.
He blends the concepts of Tom Dorrance and Ray Hunt with those of classical dressage.
For many years, Mr. Buckley supervised colt starting and horse training at the Parker Ranch in Hawaii and the King Ranch in Texas. He has started over 3,000 horses. He has trained horses from elite level dressage and show jumping to horses used by working cowboys.
Lester works with each horse and rider to help them achieve balance and forward movement while establishing trust and understanding.
TO SIGN UP PLEASE CONTACT
DORY DORSETT
404-402-2482
DoryJim@ATT.net

To learn more about Lester, go to lesterbuckley.com to read testimonials from Jack Brainard (legendary Texas horseman), Sheila Varian (Arabian horse legend), and Leopoldo Palacios (FEI Official International Show Jumping Course Designer) and Dr. Robert Miller (DVM and Equine Behaviorist).
No Dogs allowed!
---
Past Clinics
June 21-25, 2017
Sam Helms Mounted Shooting clinic
---
---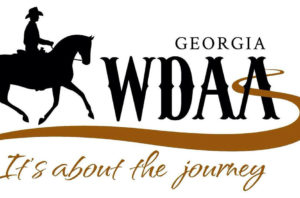 Georgia WDAA – December 20, 2014
---
---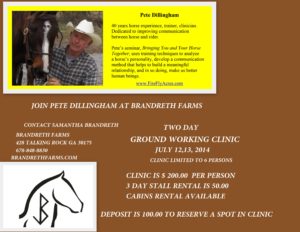 Ground Working Clinic – July 12 & 13, 2014
---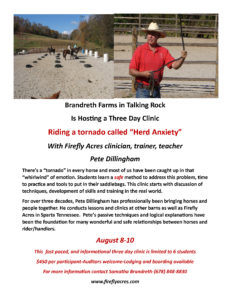 Herd Anxiety Clinic – August 8-10, 2014