In The News
Here we will post our latest places Brandreth Farms has been written in and about. Click on images to enlarge.
---
---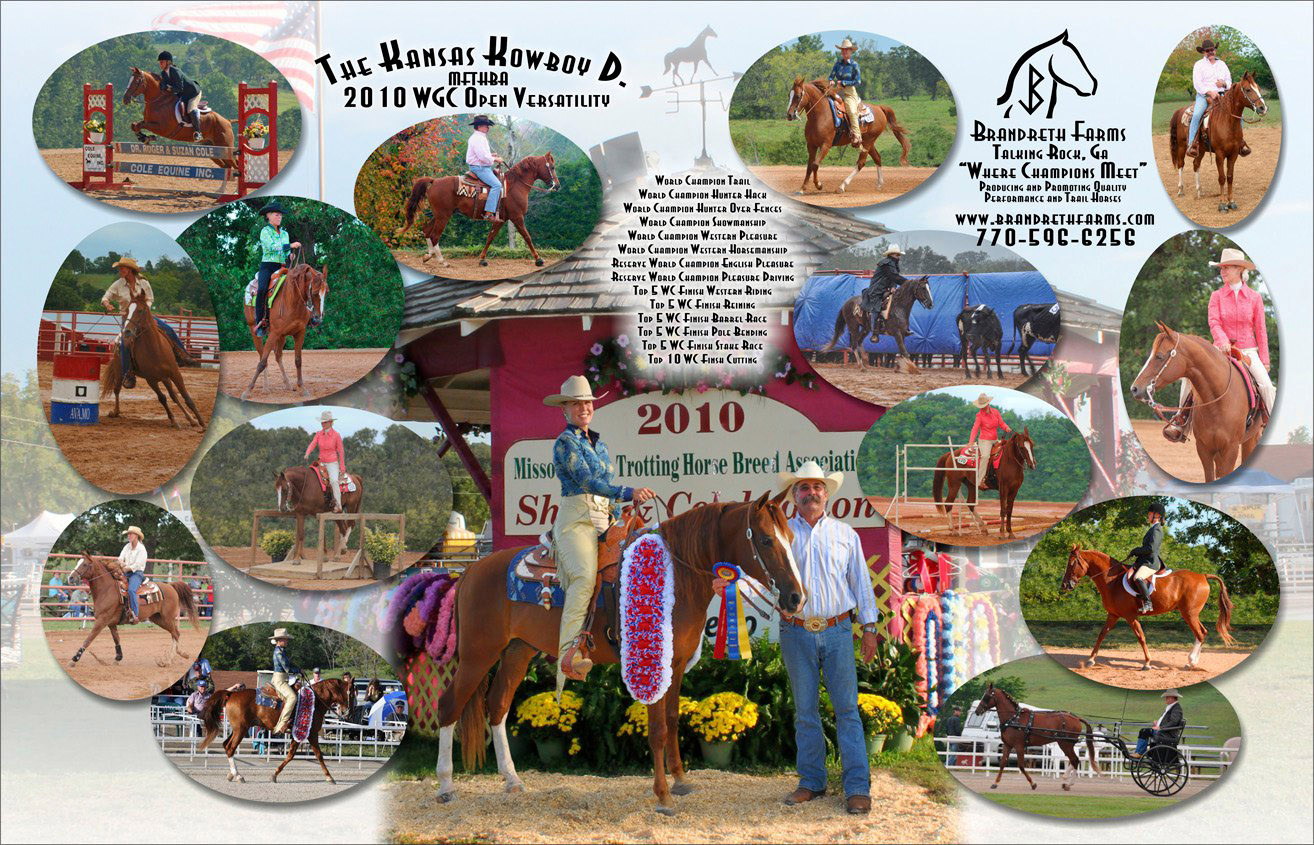 ---
Press Release on March 29, 2011
FOX TROTTER NAMED HORSE OF THE YEAR BY FRIENDS OF SOUND HORSES (FOSH)
Ava, Missouri – MARCH 29, 2011 – Friends of Sound Horses (FOSH) has named a Missouri Fox Trotter its Horse of the Year for the third time. The Kansas Kowboy D, owned by John Brandreth of Brandreth Farms, is the 2010 FOSH Horse of the Year, earning more than 1000 FOSH show points. "Kowboy" was the Missouri Fox Trotting Horse Breed Association's (MFTHBA) World Grand Champion Open Versatility horse in 2010 with six World Championships, and was an MFTHBA gaited performance champion, winning four World Championships in 2008.
"It's a thrill to compete against some of the best gaited horses in the country," said Brandreth. "Kowboy demonstrates that you can take a top gaited performance horse that wins demanding 'in breed' competitions for correct smooth gaits, and train that horse to excel in versatility horse sports like reining, cutting and barrel racing."
FOSH is a national organization dedicated to the promotion of humane horse activities and to fighting abusive horse-training practices. The FOSH Horse of the Year title is bestowed on the horse that accumulates the most points in FOSH-sanctioned shows for gaited horses, which are produced nation-wide and feature competition in a wide range of disciplines.
"When we left the MFTHBA Celebration Show in September of 2008, we developed a strategy to transform The Kansas Kowboy from a gaited performance horse to a gaited versatility horse, which meant changing his mindset," said Brandreth, a native of Georgia who owns Fox Trotters and Quarter Horses and enjoys raising gaited horses to compete in ranch horse disciplines.
"Kowboy spent two months in the mountains riding trails and bushwhacking, then another seven months at the farm doing anything but getting in an arena. In November of 2009 Kowboy went to Blankenship Stables in Sarasota, Florida, where Tori Blankenship began his transformation," Brandreth said.
In the 2010 FOSH competition, Tori Blankenship rode Kowboy at the shows in Tampa, Florida, and Ava, Missouri, and Brandreth rode him at shows in Lexington, Virginia, and Sedalia, Missouri.
Kowboy and Brandreth plan to set their sites on cowboy mounted shooting next.
"This breed has produced wonderful horses, and we're proud to demonstrate the talent, athleticism and disposition Missouri Fox Trotters have. Many thanks to our friends at the MFTHBA," Brandreth said.
"Missouri Fox Trotters have become popular throughout the world because of their natural smooth gait, temperament and versatility," said Clyde Connelly, President of the MFTHBA. "We're very pleased to see Missouri Fox Trotters performing so well across the gaited horse spectrum and across so many disciplines."
An article by Cathy Warren, owner of last year's FOSH Horse of the Year, Trixie Trax, can be read at www.fosh.info/press_p7.html. Trixie Trax is also a Fox Trotter and was trained by Blankenship Stables.
Tori and Bud Blankenship's Fox Trotter stallion Playboy's Sampson was the 2008 FOSH Horse of the Year. Sampson won many accolades in MFTHBA shows before launching his FOSH career in Florida.
About Friends of Sound Horses
Friends of Sound Horses (FOSH) is a national leader in the promotion of natural, sound gaited horses and in the fight against abuse and soring of Tennessee Walking Horses and other gaited breeds. For more information about FOSH or to become a member, please visit www.fosh.info or call 1-800-651-7993.
About the Missouri Fox Trotting Horse Breed Association (MFTHBA)
Fox Trotters originated in Missouri as ranch horses bred for smooth riding gaits as well as stamina for mountain riding and heavy ranch and farm work. They are known for versatile athleticism, the naturally smooth flat walk and fox trot gaits, and an endearing, trainable personality. Since 1948, the MFTHBA has worked to promote the Fox Trotter gaited horse and support a registry for horses that meet the breed standards of gait and conformation. There have been more than 96,000 registered Fox Trotters since the breed was formed in 1948.
Horse lovers wanting to learn more about gaited horses, in particular the Missouri Fox Trotter, can subscribe to new email publications from the Missouri Fox Trotting Horse Breed Association.
(MFTHBA). Visit www.mfthba.com to sign up.
—Media Contact—
John Brandreth, Brandreth Farms
770-596-6256
John@Brandrethfarms.com

Photography by FreeReinDesigns.com
417-859-6861
dlindsay@usipp.net
---