About Us
Introduction
Brandreth Farms raises and trains quality Missouri Fox Trotter's in the beautiful mountains of North Georgia.
Our Fox Trotters are seen by our veterinarians and farrier on a set schedule for immunizations, worming, dental work and shoeing. Additionally we utilize the services of a specialist for chiropractic and supplement needs for our horses. When needed we also take advantage of the advanced facilities and staff at the University Of Georgia Equine School of Medicine.
Our goal is to provide intelligent, gentle, sound, solid horses with a good attitude and a willing disposition. They are at home both in the arena and on the trail. With their smooth gaits and easy manner they are quick learners, eager to please and always ready to ride.
We utilize only Natural Horsemanship techniques and do not rush the development of any horse.
We breed, train and sell a very limited number of horses.
Brandreth Farms is home to World and World Grand Champion horses in Model- Performance and Versatility classes.
Mission Statement
It is the goal of Brandreth Farm's to produce well trained Fox Trotters suitable for safe and pleasurable trail riding regardless of the skill level of the rider. All of our horses display obedience and submission while retaining their natural grace and personality.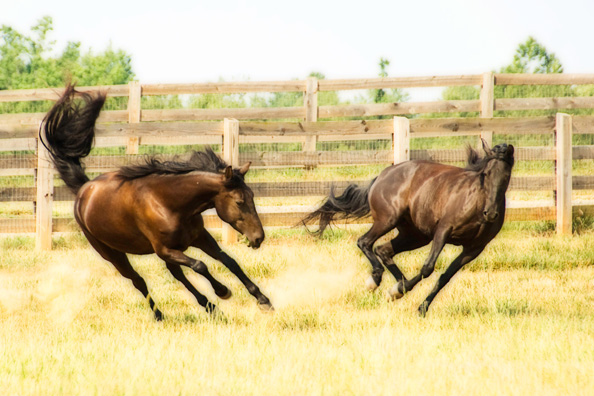 Intentions
With this goal in mind every horse owned by Brandreth Farm's, dependent on age, is capable of demonstrating the following in a safe and relaxed manner:
Tie to a post or trailer for a minimum of 30 minutes.
Stand for grooming, having the feet picked and saddled.
Stand for bathing, being clipped with electric clippers, or professional attention (vet, farrier, dentist or chiropractor).
Lead at the walk in a respectful manner.
Jog in hand.
Walk willingly on the hot walker.
Load on command into a trailer.
Stand to be fly sprayed.
Allow to be touched anywhere on their body (ears, belly, legs).
Allow towels, saddle pads, plastic bags or other equipment to be used on any part of their body.
Step over/in poles, tarps, ditches, and mud puddles in a calm and willing manner.
Willingly be bridled and unbridled.
Those horses that are ridden walk, trot and canter on both leads on command in an arena or on the trail.
Stand still for mounting from a mounting block or the ground from both sides without movement for a minimum of 2 minutes.
Flex to the right and left to the level of the girth area- while standing still both from the ground and mounted.
Back on command both in hand and while mounted in a quick and light manner.
The above traits, when shown in a horse, are an indication of the level of professionalism and care that Brandreth Farm's has. Horses that possess these skills are very valuable and can be marketed for above average prices.
With great care and selection we have procured top bloodlines in the Missouri Fox Trotting industry. Therefore, the horseflesh we own is capable of reproducing top quality foals. When these foals hit the ground we have all the ingredients to make excellent riding animals at an early age. We provide top quality feed, hay and shelter to the horses. Our medical and hoof care is exemplary. We are backed by a team of professionals available at our calling for any problem that may arise. All of this must work in conjunction with hands on horsemanship and training.
Therefore the training at Brandreth Farm's includes work on a regular basis towards all of our horses behaving in a safe, sound and sane manner.
Timeline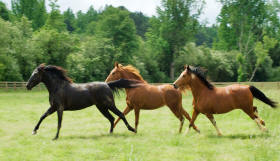 The ages given are approximate. Every horse is given consideration for not only his calendar age, but also, mental status.
Birth – Weaning (approximately 5 months old)
Foals are haltered on a daily basis.
They are lead at will following their mother.
They are touched all over their body and accustomed to grooming equipment.
They stand for their feet to be picked up.
Weaning – 12 months
Weanlings should be introduced to towels, plastic bags and saddle pads.
They stand for the farrier and vet.
They tie to secure objects for short periods of time.
They load in a trailer on command.
They tolerate bathing, fly spray, and grooming.
12 months – 18 months
Yearlings stand for tacking up with a saddle only (no bridle).
They are ponied, untacked, on pastured ground at the walk for 20 minutes and trot for 10 minutes three times a week.
They back on command, jog in hand, and allow leg wraps to be used.
They flex left and right with the halter to the level of the girth.
2 years- 2 ½ years
Long yearlings carry a bridle and flex left and right to the level of the girth.
They are mountable from both sides using a mounting block or from the ground.
They stand, immobile, for a minimum of two minutes when mounted.
They are walked while mounted in the round pen or arena or grassy area for a minimum of 45 minutes three times a week. Absolutely no hills or tight circles.
They are trailered to neighboring farms, unloaded, tied for a short period of time, and ponied for a short period of time.
In hand, they are introduced to tarps, noodles, barrels, uneven poles on the ground and other scary objects and items.
2 ½ years – 3 years
An evaluation is made as to a career for the horse at this time.
Trail horses are conditioned for the trail, potential show horses will be sent for further training; horses intended for the breeding shed should garner enough show points and recognition to command top prices for their get.
Points of Consideration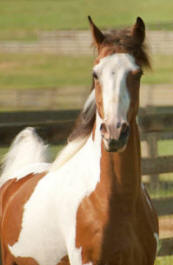 Every horse is checked every day for injuries or other discrepancies. This is usually best done at the time of feeding or turnout.
All horses are lead to a pasture or to the barn on foot, ponied off another horse, or lead in a vehicle NO faster than a walk. No horse is trotted or cantered to a pasture or barn.
All guests, including family members of employees, of Brandreth Farm's are required to sign a 'Rider's Release Statement'. No exceptions. All riders will wear an ASTM approved helmet if they are under the age of 18 or an admitted novice.
Children under the age of 18 are NOT to be in the barn or paddocks without direct adult supervision.
Whereas we believe human safety is paramount, the horses are never treated harshly. We do not accept harsh methods of training our horses (throwing them down, heads tied in unnatural positions, excessive work to tire them out, etc.). We believe that every time a human interacts with a horse he is either training it or un-training it.
Final
Since its inception, Brandreth Farm's continues to evolve into what we hope to be a successful venture in the horse industry. We willingly accept that this evolution is ongoing. Every day brings greater clarity and direction towards meeting our goals and expectations. We will continue to demand excellence in our horses, employees and business partners.